Recreation at Living Waters
The Nueces River borders the Living Waters Ranch and Reserve for one and a half miles of frontage. This spring-fed river provides our guests unlimited recreation or fishing.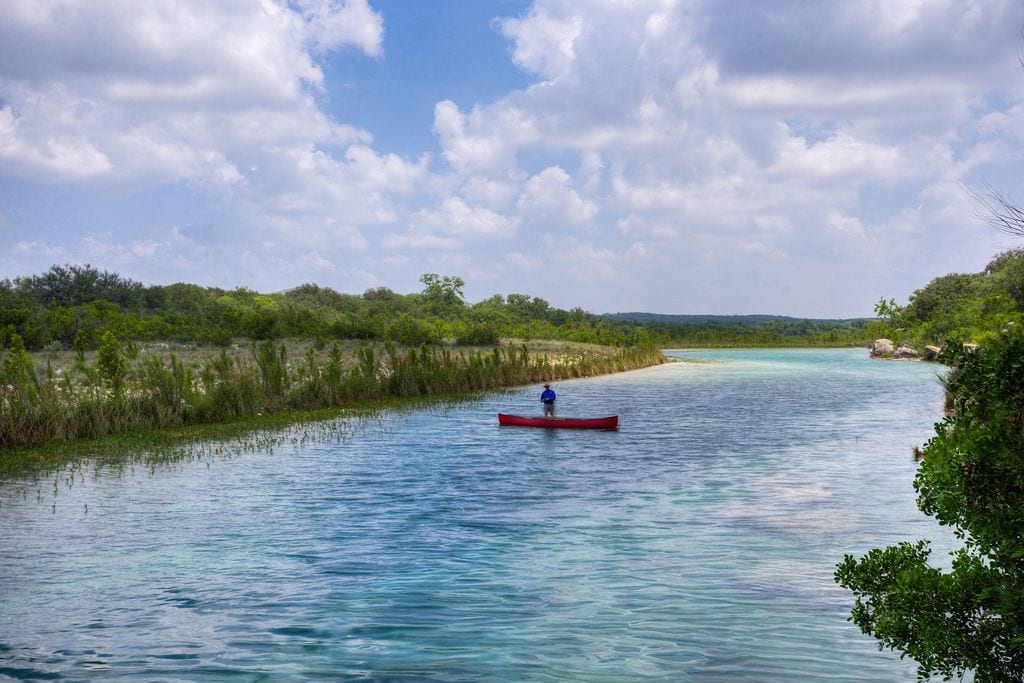 Fishing
Fishing is easily accommodated with a fly rod or casting a line from the banks. The river is a short stroll from the main house, so guests are never more than a few paces away from dropping a line in the river.
Kayaking and Tubing
Kayaking along the Nueces is picture perfect. The crystal clear waters and gentle rapids provide relaxing scenery and hours of pleasure on the river. We offer tubing to those guests looking for a slow day on the river and a float in the peaceful current. Guests are encouraged to bring their own tubes or other floats to enjoy a lazy day on the Nueces River.
Swimming and Snorkeling
Snorkling in crystal clear spring-fed waters of the Nueces. The water is a unique experience as well. Perfect for a dive to the bottom or a swim in the gentle current.
Hiking
Walk through a grassy floor underneath towering pecan trees, or wait in the oak grove in the early daytime hours to watch the wildlife travel their morning treks through proven trails. Standing from atop different hilltops and watching the black buck run through the flowing grasses will make you forget you are in Texas.
Birding
Migratory birds and butterflies are in unlimited supply during the fall and spring. The Living Waters Reserve and Ranch landscape of limestone bluffs, fresh water rivers, and grasslands provide natural habitat for many species of birds. Bring your camera and binoculars for an adventure that surpasses your expectations.
Mountain Biking
Bring your toughest mountain bike tires because some of the off-road trails are rugged, steep, and challenging.
Pictures do not do justice. We loved the place and everyone was completely satisfied. The place was clean, well kept, and HUGE. The master bedroom is to die for. We cannot put words to this place. We just loved it.
Won L.
Don't Be Shy
Drop us a line anytime and we'll be happy to help answer any questions you may have.